During our fall break, Anne and I went to visit ALC Heartwood, in Clarkston, GA. It was started about a year and a half ago, by teachers and parents who were already involved in Self-Directed Education.
They had moved into a new building a few weeks prior to our visit. It was a community center owned by a church where they have several rooms, restrooms, a fairly big parking lot at the front and a nice ungated backyard. Ungated properties are not rare in free schools. One of the reasons being that kids don't feel the need to run away, they are happy, accepted and have a purpose. This kind of school also grants permission to kids of a certain age to leave the premises after having notified an adult (soon to happen at Heartwood).
Julia and Anthony are the facilitators (which is the word that replaces "teacher" in Agile Learning Centers).
The day started at 9 a.m., with a few announcements -a reminder on how to clean up efficiently at the end of the day, some activities added to the schedule, and a group of kids who are too loud inside the building had to present solutions and consequences.
There were over 20 kids in attendance. One was a former student who came to spend the day and a few were former students who came for the week as it is their fall break in their regular school.
The kids split up into two groups for "checkpoint,". The facilitators asked the group an icebreaker type question and then the children and teenagers pulled out their folder and filled in the first part of a sheet, "intentions." The second part says "done" and the third part says "micro-reflection." The last two sections were going to be filled in during checkpoint at the end of the day. The kids who couldn't write made drawings or were helped by others. The folder is another version of kanban (method for visualizing the flow of work). Until now at Dat School, we've used cork boards hung on walls but we tried the folder this past Saturday and will continue using it until the rest of the pilot.
Everybody then went on to their activities and were busy all morning. The amount and variety of activities are impressive. A group of teenage girls played a board game, while about 10 other kids were playing outside, mostly involved in a soccer game. There was a math class (algebra among other things) facilitated by Julia and a mother. A teen was playing with a construction game by himself, some kids were busy with computers, and a mom offered a Halloween-themed nail polish session.
The students were friendly and were answering a lot of our questions. They explained their technology agreement, which consists of one hour allowed for playing and doing stuff not related to their morning intentions (they record the minutes spent on a board). We were a little surprised at first to hear a few mentioning that they were planning on going to a public middle or high school. "They want to interact with bigger crowds of students."
Facilitators have been trained to give classes about Sex Ed (with the parents' consent). It happens once a week and kids are split into three groups according to their age/maturity.
We were lucky to be visiting on a Thursday, day of the Commulture Meeting. It is a mandatory activity that is prepared by a facilitator. On that day, they were going to debate. After explaining to them what a debate is and how it works, kids were divided into groups, were given a statement to defend and some time to get ready. Two of the topics that were going to be debated were "Why children should (not) be allowed to play with toy guns, swords and other weapons," and "Why police should (not) be able to carry lethal weapons." We were impressed by the involvement of the kids and the quality of their arguments.
Later there was "explore/sprint." It is a week-long project that they work on every day. The subject is introduced on Monday (that week was gardening, the next week was going to be aquaponic and hydroponic), kids sign up, can give up but are not allowed to join later if they change their mind. We liked that project, we haven't decided whether we would add a similar concept to this pilot though.
Close to the end of the day, it was checkpoint again! Kids gathered with their facilitator, wrote in their folder what they had accomplished and a micro-flection (i.e. one thing you learned, a favorite moment, something that was challenging, etc.)
Before the 3 p.m. dismissal, it was cleanup time! Everyone has a job that is detailed on a board and there's a coach that makes sure everyone does it the right way.
Being a new and radically different learning space, Heartwood has a few challenges to tackle but just from the day we spent there, we can tell how well organized, structured and efficient it is. We left inspired, motivated and confident to bring Dat School in the same direction.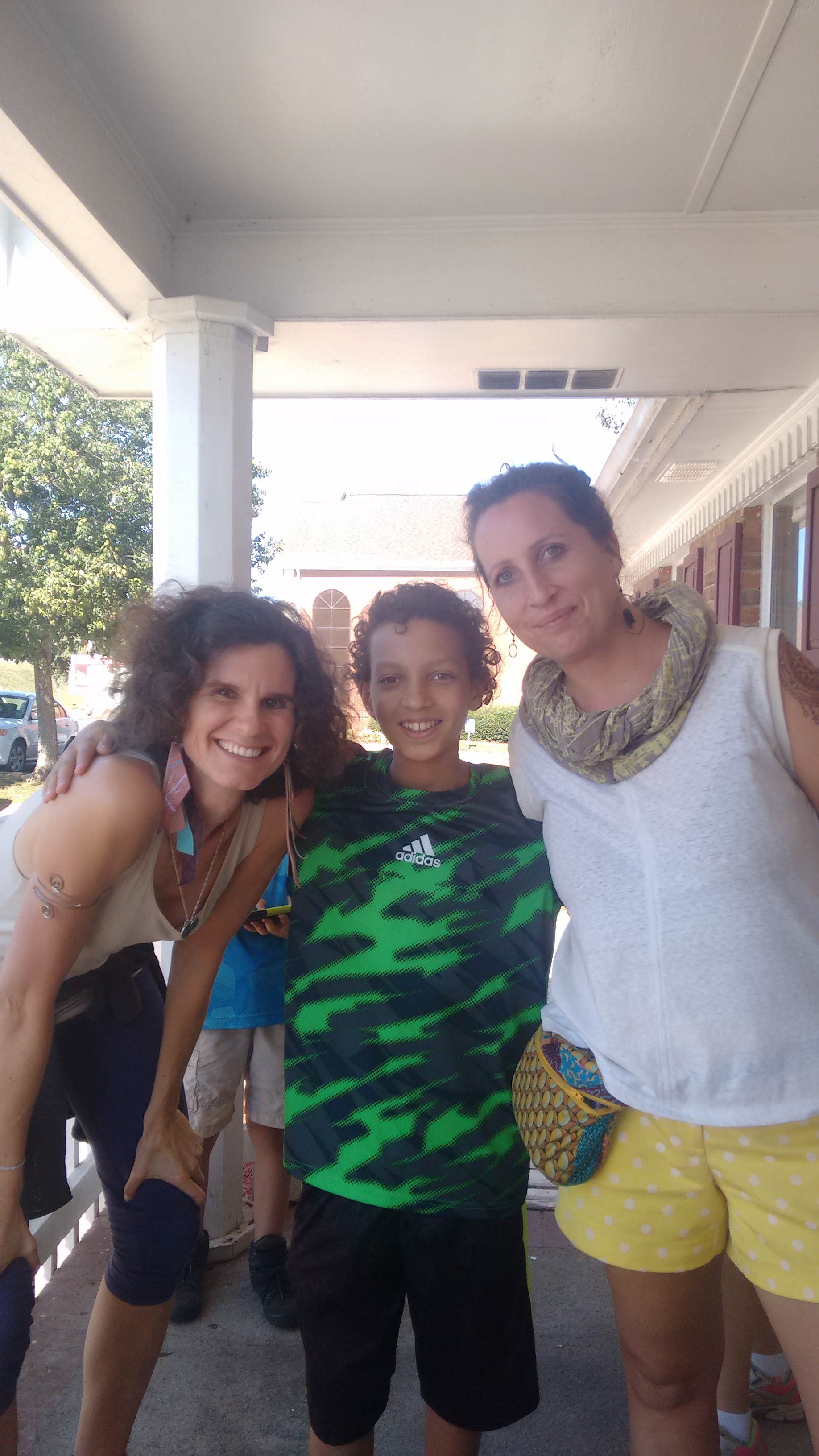 With Gabriel, a Belgian fellow...